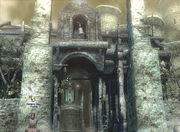 The Quopaty Temple is a place to revive, remove cursed items or level up your soul rank.  You may also increase soul material accumulation rates, maximum soul material capacity, trade soul material and view the Akashic record.
The mission to change class to Priest may be undertaken here.
Locations
Edit
There is one at Hero's square F7 in Illfalo Port.
Ad blocker interference detected!
Wikia is a free-to-use site that makes money from advertising. We have a modified experience for viewers using ad blockers

Wikia is not accessible if you've made further modifications. Remove the custom ad blocker rule(s) and the page will load as expected.