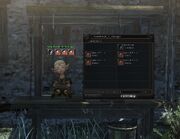 Player shops allow you to sell items outside of the Auction House. They only support fixed priced sales, but there are no fees.
You can't move and must stay logged in with the shop open, so pick a good place to set up first.
To open a shop, select "Shops" from the Main Menu. Then give your shop a name. The name can not contain spaces, so use underscores, like_this. You can then right click an item in your inventory to add it to the shop. Once you have your items set for sale, click open shop.
Ad blocker interference detected!
Wikia is a free-to-use site that makes money from advertising. We have a modified experience for viewers using ad blockers

Wikia is not accessible if you've made further modifications. Remove the custom ad blocker rule(s) and the page will load as expected.