Main articles: Dungeons, Illfalo Port
Hero's Square is a section of Illfalo Port. It connects to Deep Sea Port and Bustling Market. It also provides access to dungeons.
NPC List
Edit
Related Quests and Missions
Edit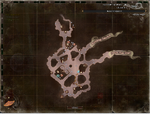 Ad blocker interference detected!
Wikia is a free-to-use site that makes money from advertising. We have a modified experience for viewers using ad blockers

Wikia is not accessible if you've made further modifications. Remove the custom ad blocker rule(s) and the page will load as expected.