Global Chat Ring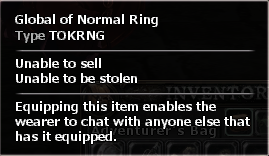 Actual item name: Global of Normal Ring
Type:  Talk ring (TOKRING)
Cost: Free
Server: Bareaux Bareaux
Master Ring owner: Aika Lakuza
Global Chat
Edit
A chat created by Aika Lakuza in an attempt to bring the community together via an almost server wide chat. The Global chat allows players to socialise, search for parties, ask for help and advice, host events or trade items from any location and channel.
All players are welcome (including criminals) of all languages.
These rings are handed out daily by Aika Lakuza in Town Square Channel 1 (normally near the Dungeon Guide). The rings are free to take. Players are also advised to contact Aika Lakuza via whisper or mail if they are in need of any (or contacting her via wiki).
Community events are also held every weekend using the Global chat such as Assassins vs Guardians and Soul Seeker.
How to use the Global Chat Ring
Edit
Equip the Global Chat Ring (goes in the talkring slot) to unlock a new chat mode called "member".
Like any other chat mode, you can select it from the drop down list in the chat box or you can use the command: /m before typing your message. The text will be displayed in orange text.
The Global Chat was created late February 2013 by Aika Lakuza , inspired by a thread on the forums about the Skynet talkring on US server.
Ever since, Aika Lakuza (with the help of many players) has been giving these rings out for free in Town Square channel 1. The main method of distribution is by setting up a player shop near the Dungeon Guide in Town Square with the rings stocked at 0g buy price.
Ad blocker interference detected!
Wikia is a free-to-use site that makes money from advertising. We have a modified experience for viewers using ad blockers

Wikia is not accessible if you've made further modifications. Remove the custom ad blocker rule(s) and the page will load as expected.