Ad blocker interference detected!
Wikia is a free-to-use site that makes money from advertising. We have a modified experience for viewers using ad blockers

Wikia is not accessible if you've made further modifications. Remove the custom ad blocker rule(s) and the page will load as expected.
Wizardry Online has a wide variety of Game Settings that you can adjust to fit your gaming needs. To update any of your Game Settings, click on the Main Menu and select Options. From there, select the tab of options you would like to change.
Video Settings
Edit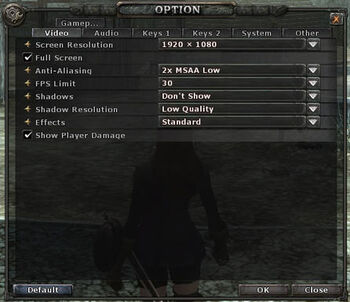 Screen Resolution
Full Screen (Checked or Unchecked)
Anti-Aliasing
FPS Limit
Shadows
Shadow Resolution
Effects
Show Player Damage (Checked or Unchecked)
Audio Settings
Edit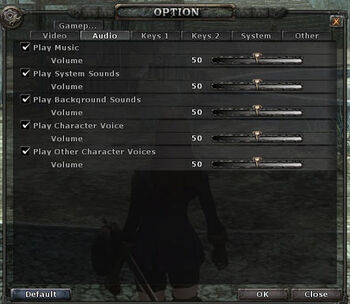 Play Music
Play System Sounds
Play Background Sounds
Play Character Voice
Play Other Character Voices
Game Pad Settings
Edit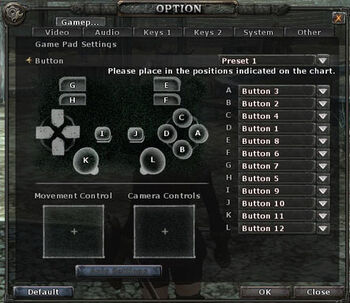 Keys 1 Settings
Edit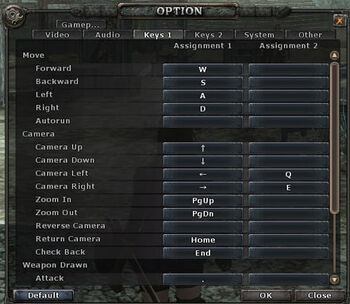 Moving Around
Edit
Forward: W
Backward: S
Left: A
Right: D
Autorun
Camera Positioning
Edit
Camera Up: Up Arrow
Camera Down: Down Arrow
Camera Left: Left Arrow or Q
Camera Right: Right Arrow or E
Zoom In: Page Up
Zoom Out: Page Down
Reverse Camera
Return Camera: Home
Check Back: End
Weapon Drawn
Edit
Attack: Period
Step: Space
Guard: Left Shift
Weapon Sheathed<
Edit
Jump: Space
Crouch: X
Dash: Left Shift
Walk: C
Special Actions: F
Draw/Sheath Weapon: /
Map Zoom
Online Status: [
Criminal Attack Setting
Body Looting Permission: ? 6
Bodies Collected: ;
Screenshot: Print Screen
To Shortcuts Page: ? 1
Targeting
Edit
Target Enemies: Tab
Change Target Mode
Target Attacker: T
Inventory: I
Equipment/Status: B
Skill Tree: K
Quests/Missions: J
Friends: L
Union: U
Options: O
Help: H
All Map: M
Commands: N
Shop
Mail
Main Menu: Comma
Toggle UI Display: F12
Logout: F11
Avatar Items
Keys 2 Settings
Edit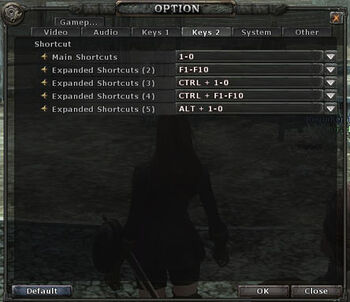 Main Shortcuts
Expanded Shortcuts (2)
Expanded Shortcuts (3)
Expanded Shortcuts (4)
Expanded Shortcuts (5)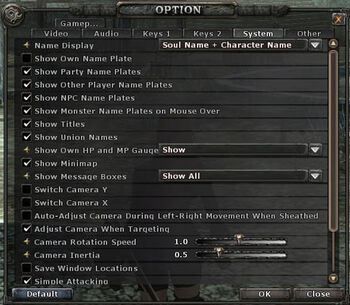 Name Display
Show Own Name Plate (Checked or Unchecked)
Show Party Name Plates (Checked or Unchecked)
Show Other Player Name Plates (Checked or Unchecked)
Show NPC Name Plates (Checked or Unchecked)
Show Monster Name Plates on Mouse Over (Checked or Unchecked)
Show Titles (Checked or Unchecked)
Show Union Names (Checked or Unchecked)
Shown Own HP and MP Guage
Show Minimap (Checked or Unchecked)
Show Message Boxes
Switch Camera Y (Checked or Unchecked)
Switch Camera X (Checked or Unchecked)
Auto-Adjust Camera During Left-Right Movement When Sheathed (Checked or Unchecked)
Adjust Camera When Targeting (Checked or Unchecked)
Camera Rotation Speed
Camera Inertia
Save Windows Locations (Checked or Unchecked)
Simple Attacking (Checked or Unchecked)
Tooltip Settings (Settings)
Automatically send error reports without checking the contents (Checked or Unchecked)
Other Settings
Edit
Refuse Trade (Checked or Unchecked)
Deny Party Invitation (Checked or Unchecked)
Deny Friend Request (Checked or Unchecked)
Online Friend Notifications (Checked or Unchecked)
Criminal Only Damage (Checked or Unchecked)
Short Cut
Edit
Extension Short Cut (2) Display (Checked or Unchecked)
Extension Short Cut (3) Display (Checked or Unchecked)
Extension Short Cut (4) Display (Checked or Unchecked)
Extension Short Cut (5) Display (Checked or Unchecked)
Chat Window
Edit
Opacity % when Active
Opacity % when not Active
Location & Transparency (Checked or Unchecked)