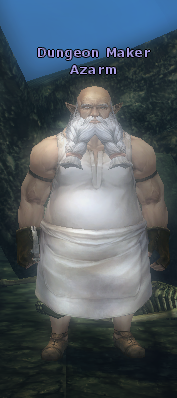 Dungeon Maker Azarm is located just to the right of the Ressurection Statue
by the entrance to Azarm Trial Dungeon's Entrance. He asks for feather stones
which are obtained from the various Hidden Battles. The stones are traded for keys to use in the dungeon which unlock the chests there.
"Got a feather stone? I need it for makin' dungeons. You can get feather stone from one of them Hidden Battles. I just don't have time to leave this dungeon. You can use Feather Stone (M) obtained by using Soul Material."
"Hey that's a feather stone! Wanna trade it for a Azarm Key? It's a key for the treasure chests in this dungeon."
"This is the Azarm Key. Take care of it now, ya hear?"
Ad blocker interference detected!
Wikia is a free-to-use site that makes money from advertising. We have a modified experience for viewers using ad blockers

Wikia is not accessible if you've made further modifications. Remove the custom ad blocker rule(s) and the page will load as expected.