Rarity:
Legend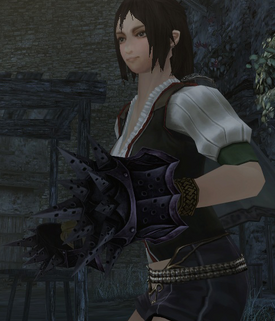 Type: Claws

Physical Attributes

Slash: 20% Strike: 40% Pierce: 40%
Restrictions

Races: All
Classes: Fighter, Thief
Class Level: 27
Soul Rank: 10
Special Effects: HP +100 , Strength +5 ,Vitality+3,
Status Change (%) Paralyze (2%)
After Used: Unable to trade
Grade
Physical
Attack
Magical
Attack
Max
Durability
Hardness
Weight
0
90.0
0.0
73
3
3.90
Can't Forge
x
x
x
x
x
Obtained From
Edit
Ad blocker interference detected!
Wikia is a free-to-use site that makes money from advertising. We have a modified experience for viewers using ad blockers

Wikia is not accessible if you've made further modifications. Remove the custom ad blocker rule(s) and the page will load as expected.