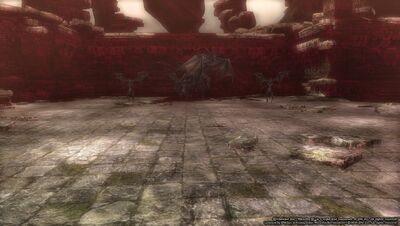 Dragon Eye is the Hidden Battle for 
Golden Dragon Ruins
. It contains 4 gargoyle-like Gloomy Barons and one large lesser demon named 
Crielle
. Recomended for a party of 16s.
Recomended Strategies
Edit
Slow Pull
Edit
While Crielle is not as strong as a lesser demon, his four arms hit fast. With some careful foot work you can get close enough to pull only the Barons. 
Once you kill them, your party can focus on all sides of Crielle.
Gotta Trap Em All!
Edit
If you have a trap theif (or more than one) you can simply lay traps near the entrence, and then pull all the mobs to them.
Make sure to leave room for your theives to escape in case not all mobs are killed by the traps.
Ad blocker interference detected!
Wikia is a free-to-use site that makes money from advertising. We have a modified experience for viewers using ad blockers

Wikia is not accessible if you've made further modifications. Remove the custom ad blocker rule(s) and the page will load as expected.