Union thought to be dead.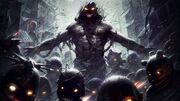 Union Level
1
Members
36/50
Leader
Sora Eliot
Sub Leaders

bhish bhish

solaire solare

Date Created
2013/4/13
DeathWraithMarine is focused on recruiting players and becoming a well known guild. Focuses on PVP and progression.Also in helping fellow members and noobs to grow we follow a strict no pking below chikor and if you can help a noob out if he is in trouble or being pked in a unfair fight.
Recruitment Requirements
Edit
Must be an active player.
Soul Rank 2+
Mature Player
Understanding of rankings and commands
Able to follow rules and also look at this wiki for the details of rules and requirements
Able to support the union.
Able to follow orders.
Help with union events such as recruiting or battles.
Dont attack Union members.
Don't cause trouble for the Union
Respect Higher Ranks.
Do not attack allied unions this can be punished with strip of rank or kick.
No pking below chikor. Give the people a chance to get some levels in.
No attacking allied union members
Do not bring a bad name to the union.
Report any and all who break our rules.
Do not lie to a fellow union member.
Must do as instructed when ordered by a sub or leader.
Ad blocker interference detected!
Wikia is a free-to-use site that makes money from advertising. We have a modified experience for viewers using ad blockers

Wikia is not accessible if you've made further modifications. Remove the custom ad blocker rule(s) and the page will load as expected.