Rarity:
Master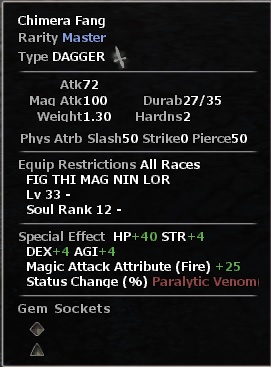 Type: Dagger
Physical Attributes

Slash: 50% Strike: 0% Pierce: 50%
Restrictions

Races: All
Classes: Fighter, Thief, Mage, Ninja, Lord
Soul Rank: 12
Level: 33
Special Effects:
HP +40, STR +4, DEX +4, AGI +4, Magic Attack Attribute (Fire) +25, Status Change (%) Paralytic Venom
Grade
Physical
Attack
Magical
Attack
Max
Durability
Hardness
Weight
0
72.0
100.0
35
2
1.30
+1
+2
+3
+4
+5
+6
+7
Paralytic Venom:
according to the japanese wiki it is a 4% chance to inflict a poison debuff (that includes paralyze) which lasts for 12 seconds and ticks for 1% of the target max HP every 2 second. Poison resistance of the target reduces the duration for both effects.
After doing a few tests myself this seems to be valid.
Obtained From
Edit
Ad blocker interference detected!
Wikia is a free-to-use site that makes money from advertising. We have a modified experience for viewers using ad blockers

Wikia is not accessible if you've made further modifications. Remove the custom ad blocker rule(s) and the page will load as expected.